I got to share this with you. Last week when I was in Vegas I just happened to glance down at the USA Today that was outside my hotel door.
I couldn't believe what I was reading!
FRIED KOOL-AID!!!
Yes, it is selling at San Diego State Fair.
And that's not all…
Deep fried spaghetti
and in Minnesota they are selling Death on a Stick as I call it!
It consists of deep-fried bacon cheddar mashed potatoes and bologna all on a stick!
Hell, Texas's state fair sells deep fried cola and even deep fried BUTTER!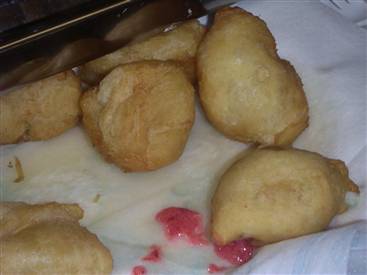 Deep Fried Butter: "I have an idea let's eat these and listen as our hearts explode out of our chests. fun!"
This blows my mind but hey it's the fair.
If its your FREE day and you earned it with a solid week of clean eating and challenging workouts then go for it.
Ok enough about what not to eat…
The real question is what if there was a way to eat healthy, get lean, feel energized and still enjoy food with friends and family and the fair?
Well, I have something for you…
Check this out. Click here now.
You can thank me in the comments section and
by sharing it with your friends.Thanks!
Have an awesome weekend!
And for all of my fellow Americans Happy 4th of July!
Live Greatly,
BB3
Billy Beck III
P.S. On Tuesday, I have something super awesome for all of my subscribers.
Be sure to check your inbox; otherwise, you will miss out. It's only available for 72 hours.
For now, read this