This is an excerpt from my Nutrition Manual "ULTIMATE EATING: How To Cut Your Body Fat In Half in Less than 90 Days".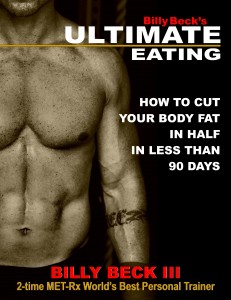 This is the plan I have used to not only get myself lean but also thousands of people from professional athletes to working moms to fitness competitors and dozens of bodybuilders.
I will be the first to tell you that there is more than one eating plan to burn fat. Many diets are unproven theory and others are simply so unpleasant they are not sustainable.  Any results you do achieve with these extreme diets are temporary.  You must be able to live with the program.
That is what makes ULTIMATE EATING so effective.  It consists of 4 separate eating plans which can be adapted to any situation you find yourself in (no matter how inconvenient or challenging).
Rather than re-write the manual here is an excerpt from ULTIMATE EATING.
The Four Eating Plans are:
70%
80%
90%
100%
The Eating Plans are all very similar and as the names suggest each one is a little stricter and a bit more effective at burning fat. The reason that there is more than one plan is because everyone is different.  Think of it as shifting gears in a vehicle.  You can get to where you want to be in first gear but it is going to take a lot longer than it would if you were shift into second gear or third or OVERDRIVE!
Life is dynamic and ever-changing.  The best eating plan for you is the one in which you can sustain and learn to enjoy.  Read over each of the plans and then flip to the menu section to see an example of an entire weeks worth of menus.  Once you decide your starting point then you will create your New Results Eating Plan.
One more thing to keep in mind, you are not stuck with any one plan.  You can do any of them.  Here are some examples that may apply to you.  The cool thing is that you can shift gears daily, weekly or seasonally.
The busy executive, salesperson or entrepreneur who travels 2 or 3 days each week.
Monday: In the office 80% Plan
Tuesday: Travel day downshift into the 70% Plan
Wednesday: Travel day maintain at 70%
Thursday: Return from Travel continue at 70%
Friday: 90% Plan
Saturday: 80% throughout the day with a Free/Cheat meal at dinner.
Sunday: 80% throughout the day with a Free/Cheat meal at dinner.
The Full-time Mother who never has a day off.
When the children are in school prepare food so that you are prepared when all Hell breaks loose later on.  Your goal might be to eat 70-80% the majority of the time. Following is an example of how a full-time mother can shift gears within a single day.
Breakfast: Before the children get up have a 100% breakfast.
Mid-morning: 90% Meal Replacement Shake
Lunch with the children: 70% or 80% meal that you prepared earlier.
Mid-Afternoon: 90% Meal Replacement shake or low fat cottage cheese and fruit.
Dinner on the go: 70% Grilled chicken sandwich without the bread and a salad with vinegar.
Evening: 100% Strawberry egg white pancakes (make enough extra for tomorrow)
Tip: Plan Free/cheat meals around parties and other activities with the family.
The Competitive Athlete
In season: Alternate between 70% & 80% Eating Plans
Pre-season: Depending on current body composition 80-100%
Off Season: 70% – 80%
8-12 weeks before Camp: If an increase in muscle mass and a decrease in fat is needed then follow the 12 week outline located at the end of the ULTIMATE EATING manual.
Now that you have seen how three extremely diverse lifestyles can put this effective eating method to work now I will describe to you each of the plans in greater detail.
70% Clean Plan
"First Gear"
The 70% Plan is the best place to begin for most people and it is the best place to maintain.  This is the eating plan that allows you to "live it."  The 70% plan applies the first four EAT Principles.
EAT Principles
Eat High Octane Foods
Eat the Right Combination of Foods
Eat every 2-3 hours
Drink Enough Clean Water
If you are currently and consistently applying these four principles masterfully then and only then begin with the 80% plan. After 4-6 weeks then it is time to turn up the fat burning furnace and progress to the 80% Plan.  If not, stagnation will set in and results will come to a standstill.
80% Clean Plan
"Second Gear"
The 80% Plan incorporates the application of all five of the EAT Principles.  Although this phase requires taking the time to measure and weigh your food, it is well worth the effort as the results become far more noticeable. At this point, it is important not eat out at restaurants if possible. The only exception is if you know for a fact what is in the foods you are eating. I often frequent the same establishments and they always accommodate me. I am sure that if you put forth the effort and turn on the charm you can certainly do the same.
Eat Principles
Eat High Octane Foods
Eat the Right Combination of Foods
Eat every 2-3 hours
Drink Enough Clean Water
Eat the Right Quantity of Food
90% Clean Plan
"Third Gear"
The 90% Plan eliminates all wheat and dairy products. This includes all whole wheat pastas, breads, tortillas and crackers. Dairy products include low fat and nonfat cottage cheese, sliced and shredded cheese and skim milk. Pay careful attention to how you feel during this phase, as many people unknowingly suffer from food allergies due to the consumption of wheat and dairy. It is not uncommon for my clients see a noticeable difference in both energy and appearance once they stop ingesting these foods, and it is often visible within only a few days.
*Fruit consumption is limited to one serving per day. Due to its simple structure, fruits do not create as great of a calorie burning effect as starchy carbohydrates. While fruits are very healthy, our objective is fat loss and there are better options available to do so.
100% Clean Plan
"OVERDRIVE"
The 100% Plan is all out. It will elicit the greatest fat burning response. I recommend this only to those people who are physique competitors or models or if you are going to be in very little clothing in front of other people.
Anyone can do it; however, it is not sustainable over a long period of time. The 100% Plan is a place you visit but you don't live here. This plan consists of High Octane Meals only. This plan calls for the elimination of all wheat products such as breads and pastas, fruit, dairy and meal replacement shakes.
Do you want to get a copy of ULTIMATE EATING?
Click Here Now
Only at Over 50% But Only Until December 7th at 11:59pm