THANK YOU!
Before I tell you more about the celebration I want to THANK YOU from the bottom of my heart. I cannot express how much it means to have loyal, amazing people like you. Your support is why we are still here.
To show you how grateful I am, we are dedicating a weeklong celebration to you!
I am including two flyers with more information. Remember to share the love and BRING YOUR FRIENDS & FAMILY! They will love you even more for it.
When is it: Monday, October 10-Saturday, October 15th!
All week long you can earn raffle tickets by purchasing supplements, personal training, or participating in a Group Metabolic Conditioning Class. Bring your friends and get a ton of raffle tickets. The raffle will be 11am on Saturday. (you must be present to win)
The Big Celebration Day is Saturday, October 15th from 8:30am – 11:30am
What is Happening?
NEW Metabolic Conditioning Group Training Classes.
Win Big Prizes like a weekend stay at the Harbor Beach Marriott & the Westin Diplomat. That's on Saturday! It's a raffle!
Huge Savings on Personal Training Packages (Saturday Only)
$100 for every person you refer that signs up for a Personal Training package.
Massive Discounts on all BB3 Supplements and Stacks
Free Food, Power Shakes, and more!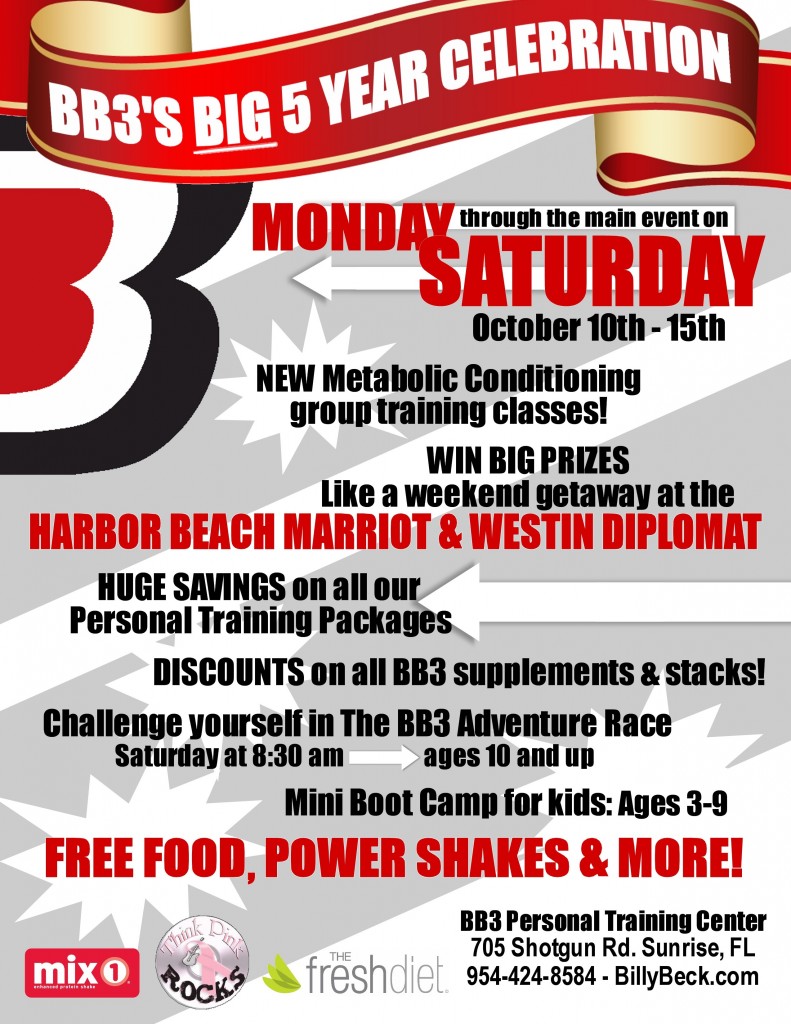 The Best Thing of All: On Saturday at 8:30am, we are holding our first ever BB3 Family Adventure Race! Anyone can do it (ages 10 & up) and the sense of exhilaration you feel afterward is priceless! We even have a mini-adventure obstacle course for kids under 10. So bring the entire family!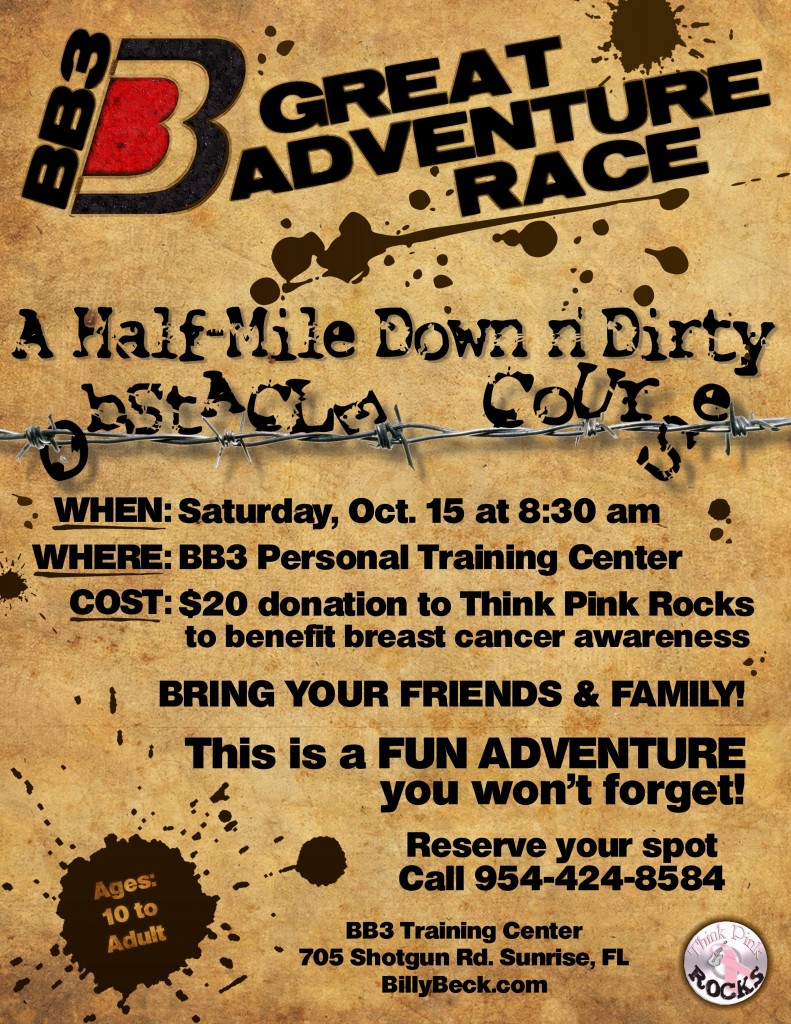 What better than the Best Thing of All? October is Breast Cancer Awareness Month and we are teaming up with Think Pink Rocks to raise funds. All of our NEW classes and activities are donation based. Just come in and make a donation. $1, $10, $100…whatever you give will be going to a great cause.
Bring All of Your Friends and Family Members! You Will Have a BLAST! 😆
Questions? Need More Information?
Just post your question or just say something nice in the comments section.  or call us at 954-424-8584
One More Reason to Come in..
And Another one…
See you Soon!
Live Greatly,
BB3
Billy Beck III