It's on! We don't do it often but when we do we do it BIG!!! FAST, FURIOUS….and A LOT of FUN!!!
What is it?
9 weeks ago, our Rapid Fire Fat Burning Challenge began and now it's time to celebrate our clients' hard work and success! 🙂
Here's what's going on:
8:30am Big J Bootcamp! This workout is called "The Punisher" It's almost full so be sure to call 954-424-8584 to reserve your spot.
9:30am Rapid Fire "Dirty 30" Fat Burning Circuit! SOLD OUT!!!!
10:00am-11:00am Super Kid Challenge! Amazing obstacle course for kids of all ages
10:56am The Award Ceremony announcing our Rapid Fire Fat Burning Challenge Champion
Best Personal Training Deal on Personal Training Packages Ever Offered!
Only Chance to Save Hundreds of Dollars!
24 sessions get 2 Free
36 sessions get 3 Free
50 session get 5 Free
15% Off All Supplements Saturday Only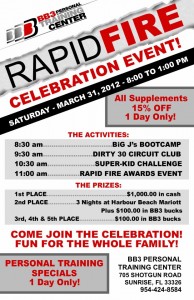 BB3 Personal Training Center is located at Bonaventure Resort & Spa, 250 Racquet Club Road, Weston, FL 33326
954-424-8584