This is one of the most important posts I've ever written and it's only going to be up for a little while. By the end of this you are going to be thinking. 
"Wow I LOVE Billy Beck III but he is freakin nuts!" 
Here's why you are going to think that.
I am going to hook you up with all of my best body transformation programs, gear, t-shirts, supplements, books and if you are super awesome you may even have me as your personal trainer and coach for an entire year…plus you might get to hang out with me and do something epic.
Here's the crazy part…I am not going to make a single penny off of it.  Yes, I am insane but I gotta tell you it feels good to be insane.
Before I tell you about the goods, I gotta tell you why I'm doing this.  It is because of two people.
One was my Hero and the other is one of my best friends on the planet earth.
The Hero: If you know my story you know that my father was legendary. He was a physical specimen at 6 foot 5, special forces in Vietnam, a triathlete, marathoner, weightlifter and even a Toughman Champion when he was in his forties.
The cool thing is he made me who I am today.  He raised me like a soldier…kind of like in the movie "Twins' when Arnold was brought up in the lab on that island…ok nothing like that but that would have been cool.
Back to my story…my father never bought me a toy.  He only got me things that sharpened me physically and mentally…training equipment, books, videos…for my 4th birthday I got my first weight set and punching bag and by the time I was 13 I was hooked.  I voluntarily ditched my bed and replaced it with a weight bench. And Yes I slept on it.
Being in the military really had an impact on my father.  Although he never said much about it, it was obvious to us all that being in combat in Vietnam affected him the rest of his life.
One of my best friends on the planet earth is Sean Greeley.
I could tell you a hundred stories about how bad ass this dude is but I am only going to tell you just one.
He is incredibly successful and uses his success to make a difference.  He created a charity event called Push Ups For Charity to help wounded soldiers and veterans get the respect and care they need and deserve via a charity called the Boot Campaign.  Last year Push-Ups for Charity raised over $250,000.00!  This year the goal is $1 Million Bucks! Pretty impressive and for a GREAT cause!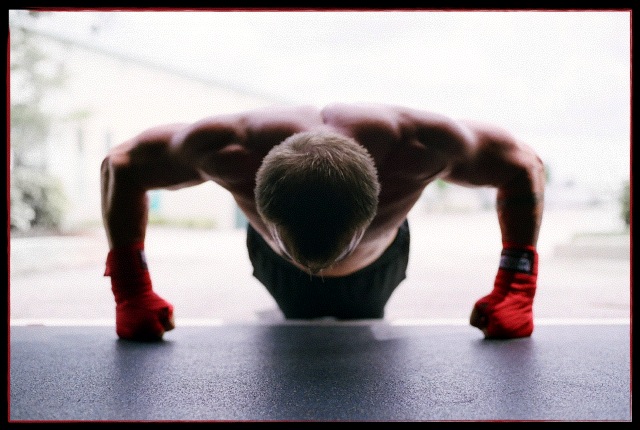 So you see where I'm going with this right?
Yeah I'm going to hit you up for some cash and you are going to donate it unless you are out of your freakin mind.
Why?
Because I am hooking you up! And I will probably never, never, never do this again.  Here's the deal, I am packaging up my best programs, cool gear, a legendary T-shirt for the guys, a perfect fitting tank top for the ladies, books and even time with the legendary man himself (that's me)  🙂 all to help raise some cash to support wounded soldiers.
Basically, I am going to give you 2-3x the value of what you donate so you gotta be clueless not to do this. Plus, you get to write off your donation.
So below decide which level you wish to donate.
The more you donate the more awesome you. In fact, I bet your life gets even better after you do this. (Man, I am selling you hard on this!)
Ok I'm done selling you on being a good person (subliminal message "pull out credit card, donate money, awesome amazing people do this and you are awesomely amazing…and very good looking. donate and get cool life changing stuff"-end of subliminal message 🙂
Level I "You're Awesome"
Donate just $25 and I will email  you a free copy of my best selling book "LEAN & Mean: Fat Burning Secrets" plus my "33 Fat Burning Recipes even a guy can make in minutes" which is not available any where.
Level II "You are Super Awesome and I'm not just saying that"
Donate a measly $100 and I will give you a lot of awesome stuff that will change your body and your life.  Here's what you get:
Everything in Level I ($50 Value)
Hard cover copy of a New York Time Best Selling Book. ($25 value)
My Ultimate Eating Nutrition Manual ($60 value)
Over 300 Done-For-You Ultimate Eating Meal Plans ($150 value)
Perfect Fitting BB3 Training Center Guys T-shirt & Ladies T-top ($30 Value)
For your tax deductible $100 donate you receive $315 worth of awesomeness.
Level III: "You are Amazingly Awesome…and good looking"
Donate $250 bucks and I will give an even better deal.  Remember your donation is tax deductible plus you get all of this:
Everything in Level I
Everything in Level II
My signature brand Whey Protein from free range "organically" raised cows.  This is without a doubt the best protein to use post workout.  Most protein powders make you 'gassy". It doesn't take Einstein to figure out that it's not high quality and something is definitely wrong.  Get on the good stuff.  (Value=$68)
My never before released "Ultimate Fat Burning Strategy 12 week program"  This program is not theory. It is proven in the real world.  It is responsible for hundreds of before and after pictures and if you think a few movie stars and pro athletes have gotten insane results doing it then you would be right. This is unlike any other program you will ever see.  What is it worth? (Value = $1,000)
For your tax deductible $250 donate you receive $1,383.00 worth of awesomeness.
Level IV: "Wow! You are Freakin AWESOME & AMAZING (and very generous)!!!
When you donate $1,000 I am going to hook you up!  Here's what you get:
Everything in Level I
Everything in Level II
Everything in Level III
Phone Consultation with me…Billy Beck III. ($300 value)
Results-Driven: Four Months with me in your corner.  Online Coaching. You are required to get the best results of your life and you will. ($4,000 value)
Let's look at this…donate $1,000 bucks and you get me in your corner plus enough resources to transform your entire life and those around you.  Seriously, if you have to have a yard sale then do it. Make this happen.  It is so worth it and it's for a great cause.
Level V: "YOU. ARE. A. LEGEND. IN. YOUR. OWN. TIME.
and I am pretty sure you can leap buildings in a single bound."
Due to the time and commitment this requires of me this available to only 1 person.
Donation = $10,000.00 If you are at this level then you are financially successful and that's awesome!  Now what can I give you that you can't buy.  Time tested training and nutritional strategies that work and work fast.  The best part is that unlike other programs you will not feel drained and deprived.  Quite the opposite.  You will be stronger and more energized.  Revitalized.
But there is something beyond body transformation.  There is a reason why some of the best of the best come to me. It's not just the physical change but something beyond that. Self-Mastery. I have studied the mind and  I have put my own to the test. I have fought bare knuckled in the streets, ran 51 miles in the middle of the night to raise money for cancer and I have done even crazier things than that.  Self-Mastery….Living Like a Lion…not a lamb.  This is a game changer and I guarantee if you put in the work it will be the best decision you have ever made.  This is what I was born to do and if you help wounded soldiers I will give you my very best.  This is what you get at Level V.
Everything in Level I
Everything in Level II
Everything in Level III
Everything in Level IV
1 year of Titanium Coaching with me. ($12,000 Value) This is my highest level coaching.  Most people don't know this even exists.  It's kind of like the 1st rule of Fight Club. When you make the level V donation then I will share the details of Titanium with you.
The "TREASURE CHEST": Power Block Adjustable Dumbbell Set with Stand ($400 value), Jungle Gym XT Suspension Training System ($90 Value) Signed Copy of LEAN & Mean, Complete Detox Kit ($349 Value) and my 21 Day Detox Manual ($50 value)
For your tax deductible $10,000 donation to help wounded soldiers via The Boot Campaign you received a total value of $18,672.00
After you donate forward your receipt to BB3@BillyBeck.com
Please allow 2-4 weeks for delivery
Spread the word, "like" and "share" this post.
 Gratitude