It's was 4:08am early Saturday morning as I reached down to grab a cool handful of water from the Atlantic Ocean. The sand crunched under my combat boots as I took the first strides toward BB3 Personal Training Center. I remember thinking to myself "whatever it takes, run, walk, crawl, I will finish no matter what." I had a goal to run 21 miles in combat boots and complete 1,000 push-ups.
Crazy I know…but that's part of my DNA. 
The real reason for my insane physical challenge was to raise money to help our wounded soldiers for Push Ups For Charity. All of the proceeds raised from my push-ups and from our trainers and clients all went to The Boot Campaign.  Since my father was in Special Forces in Vietnam it is a cause close to my heart.
Just 3 weeks prior to this, I ran 51 miles to help fight cancer.  On mile 14, I injured my knee and not long after I was unable to walk.  However, I found a way.  (after mile 51, I had to be carried to my Jeep and be driven home LOL)  So it was no surprise on this early Saturday morning when my old friend PAIN paid a visit.  I kept running until I couldn't walk then I hit the deck and knocked out push-ups.  Then I got up and ran more.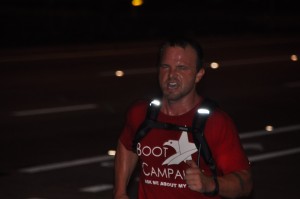 21 miles later (still wearing combat boots) I reached BB3 Personal Training Center and had already knocked out 750 push-ups.
It was awesome to finish the 1,000 with so many of our clients, trainers, soldiers, fire rescue and friends there doing them with me. It was an honor to say the least.
Now onto the lesson…while there were many lessons the greatest was the one I learned after the event. We had a goal to raise over $10,000 for our wounded soldiers.
After everyone had left and the number was reported to me I was pissed. Just over $5,000. It was no one's fault but my own.
BB3 Law: Never Blame, Always take full responsibility for the results in your life.
Imagine running 21 miles in combat boots and doing over 1,000 push-ups and then not hit your goal.
I remember not being able unlock my elbows and my jaw because my muscles were cramping so bad.  Now to FAIL to ACHIEVE THE OBJECTIVE!!! Unacceptable…in every way.
I came to the TEAM Meeting on Monday less than happy (you can ask anyone there).
Long story short the message was clear.  "When did it become OK not to achieve our goal?"
NEVER. It is NEVER OK not to achieve YOUR goal yet many people just say "oh well, maybe next time."  John F. Kennedy said this,
"Once you say you are going to settle for second, that's what happens to you in life."
Has this happened to you? Have you settled for less than what you are capable of?  If so, don't be sad, TAKE ACTION!   Get angry if it helps but don't mope around and feel like your a loser.  Failure only occurs when you give up.  Promise yourself to attack your goal and do whatever it takes to be successful.  This level of commitment is possessed by the greatest achievers on the planet past, present and future.
 "We will accept nothing less than full victory."
President Dwight Eisenhower
I can not and will not accept mediocrity.  For mediocrity is cancer of the soul…never settle for anything less than you are capable of.  If you do, then you are guaranteed to live of life of regret.  Commit right now to never accept mediocrity.   Burn these words into your mind, heart and soul,  "starting today I refuse to merely "try".  I will now and always from this point forward give all I have to achieve my objective.  I will never let myself down.  I define my success and my victories not by comparing myself to others but by knowing that I gave all I have and had no more to give. I am not weak. I am strong. I am not a lamb.  I am a LION."
The LION's ROAR
So you may be wondering what happened to our $10,000 goal? Today at 10:51am EST BB3 Personal Training Center went over the $10,000 mark and we achieved our objective.  Remember to teach a lesson you must live it. That is what we do at BB3.  Now it's your turn.  Apply this to your physical goals and your body will be bulletproof in just a few months. Apply this principle to your entire life and it will never be the same.
Special Thank You and Much Love to my BB3 Family…You Inspire Me To Be My Best.