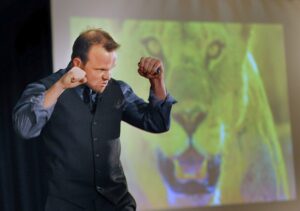 Lions & Lionesses!
Today I will remind of something you already know but most of us have forgotten.
What you speak you create. This is not an idea. This is a fact.
This is Universal Law.
Every great creator knows this.
Every great leader knows this.
And you intuitively know this.
You speak things into existence.
We all do.
Most humans are unaware of what they are creating.
They whine, complain, bitch and moan.
When something doesn't go there way they are compelled to share it with anyone who will listen.
If a human cannot manage their words then how can they manage their actions?
What you think and speak leads to your actions and inactions.
Meditate upon this message.
I can tell you it is more important than almost everything else.
Declare what you want to create with absolute conviction.
Command it.
Demand it.
As you train COMMAND and DEMAND your body to be STRONG & POWERFUL & ENERGIZED!
Start with training then expand into other areas.
When you fuel your body, COMMAND vitality, satiety and supreme health.
When you communicate with others, COMMAND and DEMAND to see them through the lens of Love and Compassion and Understanding.
Know what I mean jelly bean?
You got this.
Billy Beck III  "BB3"