MEN'S HEALTH ARTICLE
The Rock lifted weights. He elevated his game. He raised a single eyebrow, then millions of them. Now he's boosting himself to a whole new level. Care to join him on the way up? … For this evolution, the Rock consulted Billy Beck, and with a new plan in hand, slimmed down to 245 and cut his body fat in half in 4 months.
Photographs by: E.J. Camp, By: Phillip Rhodes & Mike Zimmerman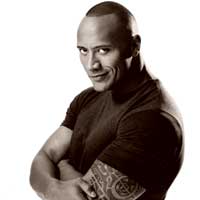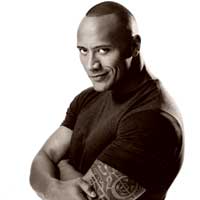 The charisma, the comic timing, the smirks, the cocked eyebrow… they're all pinstripes on the Porsche. Without the body, none of these things matter. See, Tom Cruise could potentially saunter into a Venice Beach
diner wearing sunglasses, a ball cap, and jeans and make it to a booth without anyone noticing. But not a 6'4", bronze-skinned, redwood-muscled monolith like the Rock.
He's greeted by, and greets in return, every server in the place, though he clearly wants to make it to that booth with minimum fuss.
No chance. Just by entering, he owns rooms he doesn't even want to invest in. This imposing presence–coupled with the pinstripes mentioned above–has led to icon status.
But make no mistake: It all starts with the body.
Through the years, everyone's body evolves. It can devolve, too. Compare the still-sculpted stone of Stallone to, say, the butter of Brando. The Rock has chosen evolution, because his career is evolving as well. In the late '90s, he made his entertainment bones in a venue that allowed his larger-than-life physique to work for him–a wrestling ring in front of 50,000 people. Now, in the early aughties, the 31-year-old is a bona fide movie star, on the verge of flicking Governor Arnold's final finger from the action-hero title belt. That means hurling his physique upon a canvas even less forgiving than the wrestling mat: a 50-foot theater screen.
As he transitions into meatier roles that require him to look less superhuman–this spring's gritty remake of Walking Tall; the summer 2005 flick Spy Hunter; and a comic turn in Be Cool, the ensemble follow-up to Get Shorty–his body has needed to transition as well. He's lost 20 pounds and slashed his body fat from 14 percent to 7 percent–all through a program you'll find in these pages. Just another Kafka moment in a pop-culture work in progress? Hardly. The longer we sat in that diner booth with the Rock, the clearer it became that, to him, change is sustenance.
The evolution of Dwayne Johnson began at age 13, when he lay down on a gym bench for the first time. "I put 135 pounds on the bar, tried to bench-press it, and it pinned me." He re-creates the moment with a grimace and an invisible bar, and then shakes his head and smiles. "I had to let the weights slide off one side. I was so embarrassed."
Maybe then, but never again. Soon after that first bench press, his workouts became dead serious–at least in his teenage mind. "I remember, we had just moved from Hawaii to Nashville, and me and my workout buddies were popping amino acids. 'Oh, I gotta take my amino acids!? They were these big horse pills," he says, laughing. "We had no clue."
But a funny thing happened on the way to high school. The Rock we know today began to emerge–a 6'4″, 240-pound behemoth. ("Kids thought I was a cop.") But that bigger physique led to better things in his senior year, when he scored a football scholarship to the University of Miami. He was a Hurricane alongside Warren Sapp and Ray Lewis, on the road to the NFL. The body continued to evolve, and he tailored his workouts to gain the weight and power needed to be a Division One defensive tackle. He topped out at 280 pounds.
"I looked like a Samoan Michelin Man," he says.
All signs pointed to a pro career until his senior year, when he ruptured two disks in his back. The injury left him undrafted. Still desperate to play football, he signed with the Canadian Football League and was cut after 2 months. Yep–cut by the CFL. What does a man trained to play football do when he is no longer welcome on the field? He goes home and joins the family business.
Body slams are in his blood. As a kid, young Dwayne watched his grandpa, "High Chief" Peter Maivia, fly around rings across the country. Then there was dear ol' Dad: Rocky Johnson, a World Wrestling Federation tag- team champion–and whether he knew it or not, the man partly responsible for the evolution of the modern wrestler's action-figure body. Back then, grapplers were just big. But Rocky Johnson was big and cut–a bodybuilding precursor to the standard physique you see today in the WWE. He won the tag-team belt in 1983 with Tony Atlas, another famous muscleman. Thus the stage was set for Dwayne Johnson's WrestleMania gene to express itself–and once again, the body would have to evolve. His 280 pounds were now his enemy, believe it or not. "For all those 'suplexes' and the Rock Bottom [his signature slam], I needed to be able to move, needed to be lighter."
He whittled 280 down to 260, and the one-body-part-per-day workout he used to get there evolved into the plan he stuck with for years. Monday Night Raws faded into WWF SmackDowns. The arena tours came and went. Battling it out with his nemesis, Stone Cold Steve Austin, he won and lost seven titles. Then he was cast as a hero-turned-heel in The Mummy Returns and The Scorpion King, and this wrestling icon found himself
becoming something bigger: a pop-culture icon.
Another evolution was at hand–bigger and better roles were coming. It was time to shed the cartoon qualities that work under wrestling's bigtop, and project totally unexpected qualities: human warmth, vulnerability, and humor. That's when the Rock's blue-chip workout program–the one that had kept him primed for years of turnbuckle abuse–failed him. "I'd work out religiously," he recalls, "but my muscles were flat. And I always felt like I was running on empty. Not only was I not seeing any gains, I was barely maintaining."
But the Rock has seen and accepted more change than the cheapie slots at the MGM Grand. "I like change," he says, spearing–maybe even bruising–the tabletop with his forefinger for emphasis. "Being on the road with my dad, traveling from state to state and living like a gypsy, man, life made me deal with change. Now, whenever change is needed, I say, 'Okay, I get it. Let's devise a plan and see what I can do.' "
For this evolution, the Rock consulted a new trainer, Billy Beck, and with a new plan in hand, slimmed down to 245 and cut his body fat in half in 4 months. The amount of time he spent in the gym didn't change. The amount of food he ate did: He had to eat more.